We're sorry we're out of stock, but we can let you know as soon as this product becomes available again.
Enter your details below and we'll email you once this item is back in stock.
Dreamy - Collagen Plant Fibre Lashes - The First Truly customisable 12 Micro-Magnet Lash. 
Introducing 10 exclusive styles.
The most softest most durable lashes you need to experience, Created with a collagen bionic lash band you won't ever feel the lash band sticking in your eye or any irritation!
RECEIVE Our Collagen Plant Fibre Power Magnetic Eyeliner Absolutely Free
 WHEN YOU PURCHASE THESE LASHES ........ 
Click YES On The Power Liner Box ...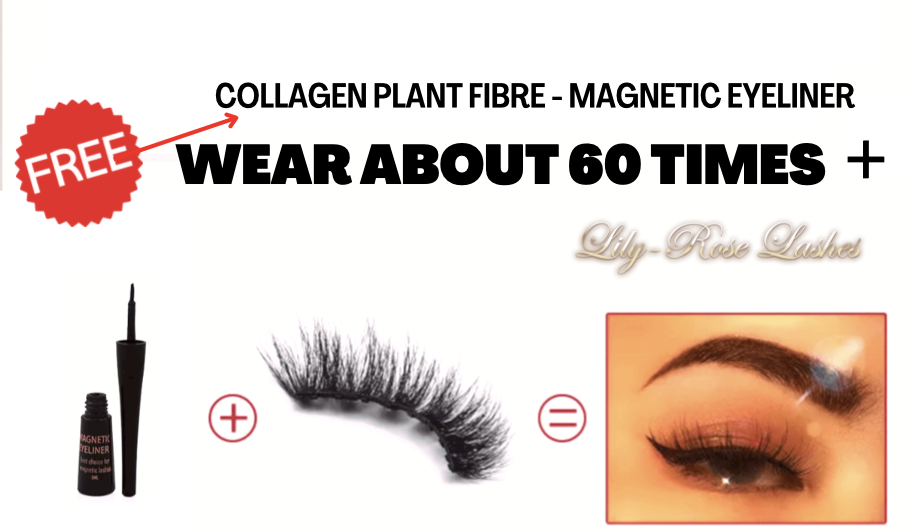 In as easy as 1-2-3, our Collagen Protein Plant lashes deliver the exact lash extension look you love without the need of going to a salon, with no drama, no fuss and zero mess!  Each lash features 12 perfectly spaced micro-magnets for maximum customization and a lightweight feel- guaranteeing all day comfort!
These lashes are so easy to apply, they just snap into place.
Crafted from the most-luxurious vegan friendly, Collagen Bionic Protein Plant Material giving each lash up to 60 wears, YES 60 wears.
Its as easy as 1-2-3 
These lashes have been tried and tested to there limits without failing us:- 
Tested
40 Degrees Heat

3 Tests Under Water

Showered 

16 hours Wear 
And still looked perfect (We Do Not Recommend You Go Swimming OR Shower In Them)
Why We Offer The Best 
Worlds First Collagen Plant Fibre 

Natural Feel & Look 

Must Be Used With Our Magnetic EyeLiner 

Lightweight

Super Thin Without Loss Of Volume 

Comfortable Wear 

Upto 60 Wears 

Stunning Looks 

Length 33 mm

Inner Eye 19 mm

Outer Eye 25 mm
*Please Note*
These Lashes Do Not Come With Our Power Magnetic Liner 

REMOVE
STEP 1
Your day is over, or your special event has come to an end, now it's time to properly remove your lashes so they can live to see another day of beauty.
STEP 2
When done wearing the lashes, gently remove them by lifting the band of the lash off of the skin at the inner corner of the eye, then using our cleaning oil  gently remove the remainder of the lash.  Never pull on the lashes to remove, always use the band and cleansing oil.
STEP 3
Repeat for the other eye.
STEP 4
Store your lashes in our Lily-Rose box or our Dimante tube that the lashes came in to keep in pristine condition safe from dust.


CARE
STEP 1
Store your lashes in the  box or Dimante tube they arrived in to keep them clean, dry and protected from getting harmed, perfect for travelling for a night out or for your travels.
STEP 2
If your lashes have build up on them, DO NOT GET THEM WET, this will ruin them. To clean off any build up gently brush your lashes with a clean mascara  wand, You may also carefully remove leftover glue on the band of the lash with tweezers.
 Please NEVER get your lashes wet.
STEP 3
When properly cared for you Lily-Rose Lashes are reusable around 20-30 times
Our New Collagen Protein and Russain Hydrid Magnetic Lashes are re-usable around 60 times with care.
TIP: To increase the longevity and maintain the original style of your Lily-Rose Lashes even further, do not apply mascara directly on them. 
Instead, apply mascara to your natural lashes first, allow it to dry, then apply your Lily-Rose Lashes.
We are 100% committed to our amazing No Glue Falsies!
Not only are Magnetic Eyelashes and liners easier to apply than traditional glue-on lashes, but they are also 100% Vegan too and contain No Latex.
STEP 1 - THE NATURAL EYE
For the perfect, natural look. The inner corner of your falsies should line up with the start of your natural lashes for a fully blended look.
STEP 2 - MEASURE YOUR EYES
Measure by holding your lashes up to your eye and see how they fit with your natural lash line. Top tip - using a lash applicator can make this easier! Once you have matched up the inner corner of the false lash with the start of your natural lashes, it's time to trim the excess on the outer edge.
 STEP 3 - TIME TO TRIM 
Now you have measured your lashes you can trim away any excess from the outer edge. Remember, trim as close to the next magnet on the lash band as possible for the most secure hold.
STEP 4 - HOW TO APPLY
Once you have applied your magnetic liner and allowed it to fully dry, ( 60 Seconds Depending On The Weather) you are ready to apply your trimmed lashes. You can use a lash applicator to help control your application and get as close to the lash line as possible. Trust us, you'll get the perfect look. Shop applicator HERE
Be the first to review this product.
Leave a review